---
NEW generation of CC90 Non-mandrel tube and pipe bender. Maximum working stroke: 88.9 mm or 3" Schedule 40 or 3" 1/2 Whitworth or 3" ISO x 6 mm.
The new generation of CC90 Non-mandrel rotary tube and pipe bender can bend up to 180º curves on hollow profiles ensuring the best bent finishes in today's market. Equipped with a Touch Screen control grant the user interactaction with the standard features offered using the latest 4.0 technology. The sleek look, versatility and faster bending speeds also allows us to have one of best machines offered in our industry. Materials can be round, oval, square, rectangular and made of different metals such as steel, aluminum, stainless steel, copper...
All Nargesa's Products are according to CE regulations for the manufacturing of industrial machinery.
---
---
Technical features
The mandrel-less tube and pipe bending machines Nargesa are perfect for making curves with a constant quality for pipes, tubes, square bars, rods and other profiles.
Maximum size on S275 round steel pipe​: 90mm or 3" Schedule or 3" 1/2 Whitworth or 3" ISO x 6mm.
Maximum size on aluminum pipe: 88,9mm x 10 mm / 3"1/2 x .393"
Maximum size on stainless steel pipe 304 /316: 88,9mm x 4mm / 3"1/2 x .157"
Maximum size on square tube: 60x60x4mm / 2.362" x 2.362" x .157"
Maximum angle of curvature: 180º
Automatic rotation speed from 0,75 up 2,2 rpm
Minimum radius of curvature: 3 times the pipe diameter.
Maximum radius of curvature: 346 mm or 13,60"
Repetition on the curve of +/- 0.1 degrees
Reinforcement tool post support arm for pipes with diameters over 40 mm included.
400 ml BEND 8 lubricant included.
Two bending directions, right or left for easier bending.
Quick die change over: Maximum 60 seconds.
4.0 Technology
CNC control with 7" touchscreen with more than 20 different languages
Safety pedal to the right and left.
Side shelving to store tools.
All bend dies are made of tempered steel for longer tool life.
The counter dies are made of bronze alloys to help prevent markings on the outside of the bent profiles.
Stores up to 10,000 programs.
Up to 50 different angles on the same piece can be programmed.
Dimensions can be programmed in inches or millimeters.
Pivot system with automatic unlocking to help remove material.
Automatic and programmable spring back correction.
Automatic unlocking
Automatic and programmable springback
Offset head for complex parts.
Reinforcement tool post support included
Packaging included
Motor power: 2,2 KW / 3 HP.
Electrical voltage: 230/400V Three-phased 50/60Hz
Intensity: 9/5 A
Machine weight: 860Kg
A lower pallet bench to transport the machine to the worksite or storage.
The CC90 pipe bender is sent completely assembled.
3-layer cardboard box suitable for seafreight.
Optional: NIMF15 wooden container.
All our products are manufactured in our facilities in Spain. Hydraulic and electrical components are all standard from the best leading European trademarks with technical support all over the world: Rexroth, Bosch, Roquet, Schneider Electric, LG, Telemecanique, Pizzato...
---
---
Samples of jobs done with Non-mandrel tube and pipe bender CC90 CNC
---
---
---
What you should know before purchasing a pipe bender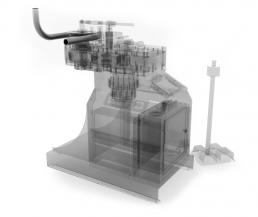 4.0 Technology: Whenever a customer agrees, the manufacturer may remotely connect to their machine to do any software updates completely free of cost and detect any anomalies in the machine without needing to travel to the machine site. 
Robustness and speed: The weight of the machine in comparison to other brands provides an idea of how it's built. Some models can double the others in weight. These are not DIY machines; they're pipe benders that can work 24 hours a day.
Curve thicknesses and finishes: The original counter-shape designed by Nargesa guarantee a good finish even with a thin-walled pipe.
Offset head and two-directional bending: The offset head design allows for complex curves as the pipe goes below it.
Enhanced energy efficiency: The consumption per machine working stroke has been significantly reduced to save energy.
Automatic unlock: The bending carriage moves automatically to the right or to the left depending on the direction of the curve to more easily release the piece without needing to re-adjust the grip.
Reinforcement strap included: The CNC pipe bender comes standard with a reinforcement arm. It's used to prevent machine chassis deformations.
Bend 8 Lubricant included: With the purchase of the CC60 CNC pipe bender, you'll receive a 400 ml bottle of special bending lubricant.
Read the full document
Download (448.81 KB)
---
Optional accesories

Included accesories

Instructions book

+ Info

Dimensions

Packaging

Uses of the machine
Optional accesories for Non-mandrel tube and pipe bender CC90 CNC
---
Included accesories for Non-mandrel tube and pipe bender CC90 CNC
---
---
Nargesa Bend8 aerosol lubricant
---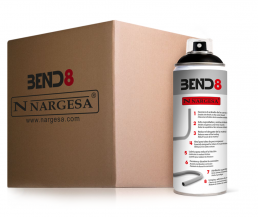 The CC60 pipe bender comes with a 400 ml bottle of BEND8 lubricant.
Formats available for this product:
REF. 060-SPR-00003 400 ml bottle.
REF. 060-SPR-00004 Box of 12 400 ml bottles.
Tariff Item Code: 27101999
This is a high-additive and low-viscosity aerosol oil. Contains PTFE. Does not contain silicone.
Enables the finish on the outer bend
Inhibits roughness and inner marks
Reduces wear of the tooling
Especially designed for tubes of small thickness
Lubricates to reduce friction
Avoids and disolves corrosion
Gives shine and protects
Cleans up and removes dirt
---
---
---
+ Info for Non-mandrel tube and pipe bender CC90 CNC
---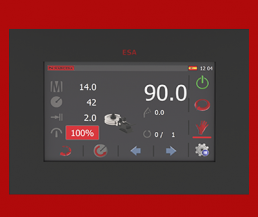 ESA S625 CONTROL PANEL
Nargesa tube and pipes benders are controlled with a very intuitive and easy-to-use 7" color touchscreen with the latest 4.0 technology. Just enter the pipe dimensions, thickness, angle of the curve or curves and choose a die from the library and the control programs the rest of the parameters automatically; elastic recovery correction (springback), recommended rotation speed, whether a tool post support is necessary or not, and if the intended curve is possible... All of this may be modified by the end user based on their own needs. These are some of the most relevant features of this control system.
Stores up to 10,000 programs.
Up to 50 different angles on the same piece can be programmed.
Dimensions may be programmed in inches or millimeters.
A library of available dies with the possibility of programming new ones.
A library of differently shaped pipes with varying thicknesses.
The CNC can be supplied in more than 20 different languages.
Automatic or manual rotation speed adjustment from 1.5 to 5.4 rpm.
Manual or automatic operation.
Automatic elastic recovery correction (springback).
Piece counter.
Independent correction of the programmable final curve degree.
4.0 Technology
On-screen alarm diagnostics.
Preventive maintenance warning.
Can be remotely connected by the manufacturer without having to travel to the machine site.
Warning on screen if the tool post support needs to be used.
7" color touchscreen with 800 x 480 resolution
128 MB silicon disk
2 analog inputs, 12 bit resolution.
16 digital inputs (24 Vdc).
16 digital outputs (24 Vcc, 0.7 A max.) Protected against overloads and short circuits.
1 RS232 serial port
1 CAN port with 9 D-Sub F connector contacts.
24 Vdc power source
1 USB port
​
 
Dimensions of the machine Non-mandrel tube and pipe bender CC90 CNC
---
Characteristics of the packaging Non-mandrel tube and pipe bender CC90 CNC
---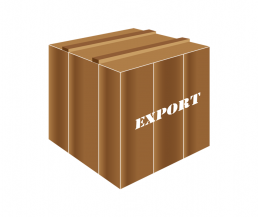 Nº Pallets: 1.
Width:  780mm.
Length:  1440mm.
Height:  1540mm.
Volume: 1,37m3
Nett weight: 860 Kg.
Gross Weight:  920Kg.
Tariff Item Code:  84622600

Otras características:
Palletized bench to move the machine easily to the working site or storage.
The machine is delivered completely mounted.
Packaging with wooden pallet and 3-layered cardboard, suitable for sea freight.
Optional: Complete wooden packaging NIMF15.
Uses of the machine Non-mandrel tube and pipe bender CC90 CNC
---
Fixed radius bending machines are used in most branches  related to the world of metallurgy. Naval: to build all types of ducts and pipes with different shapes. For the protections and rails of yachts in stainless steel. Construction: for all types of stairs, pool railings, parking protections, gas stations, pillars, boats... Automobile: bumpers, anti-roll bars, protections and windows of "buggies"... Motorcycle: motorcycle chassis, handlebars, motorbikes and bikes parking. Furniture: Manufacture of workout machines, chairs, tables and all kinds of furniture. Agriculture: Structures for animal feeders, machinery, greenhouses...
---