---
NEW CNC Guillotine C3006 Nargesa with compact CNC control. Max. cutting length: 3055mm Max. thickness: 6 mm.
The latest generation CNC Vertical cut shears NARGESA, are made of stabilized, welded steel that allows to stand big efforts without deformation.
Cutting length: 3055mm. Max. thickness in steel: 6mm. Max. thickness in Stainless Steel: 4 mm.
All Nargesa products are according to the CE normatives and regulations for manufacturing of industrial machinery.
---
---
Technical features
The last generation of NEW CNC vertical cutting Shears C3006, allows to cut any type of metal in a clean and accurate way. Vertical cut shearing  is a lot more precise and with its consequent lower energetic expense and cost of the blades.
The main advantages of the vertical cut in comparison to the swing cut are:
Energetic saving
Resistance of material in vertical cut is much lower, which becomes a considerable energetic saving.
Cutting quality
Clean, perfect and accurate cut.
Life of the blades
The blades wear is almost nule. The life of the blades is 4 times higher than other shearing systems.
The C3006 CNC Shear is supplied as standard with the following components​:
High resistance structure
One block bench, mechanized, equipped with spheres to ease up the movement of the sheet.
Initial support machined to square of 1000mm with millimeter scale.
Three 1000mm millimetered stand arms. 
LASER lightning on the cutting line.
LED front lightning.
Front polycarbonate protection screens that allow to see the cutting line.
​Cutting of narrow strips without distortion.
4-cutting edged upper and lower blades, with 90º angle, long lasting and the proper ones for cutting of steel.
Driving with safety pedal and emergency stop.  
Back overture with safety optoelectronic devices.
Low noise level, improving the quality of work of the operator.
Ramp of material extraction located in the lower part of the cutting zone allows the material to slide down to the extraction area.
Cutting length​: 3055mm.
Cutting capacity: 6 mm in steel (450N/mm2) andy 4 mm in S.S.(700N/mm2).
Gauge displacemnt​: 700 mm.        
Goose neck for cuts with bigger length: 173 mm.   
Strokes per minute: 12 Strokes. (All length).
Hydraulic rammers: 15 units.     
Fix cut inclination: 1,75º.       
Motor power​: 9,6 KW / 12,87 CV.
3-Phased tension: 230/400 V. 50/60 Hz 
Hydraulic Pump: 22 liters.   
Container capacity: 96 liters.
The machine is delivered completely assembled.
Precision rear gauge 
Rear gauge fixed to the structure.
Accuracy and repeatability of positioning from +/- 0,1mm. 
Low maintenance thanks to the use of low friction elements.
ESA S625 compact CNC
The control interface is very intuitive and easy to use.
Internal database of materials.
Configuration of the piece length by the CNC.
Enhanced hydraulic group 
Automatic regulation of the cutting pressure depending on the need for cutting power.
Automatic regulation of the pressure of the sheet fastenings.
All our products are manufactured in our facilities in Sapin. Hydraulic and electronic components are completey standard from the best European leading trademarks, with technical servie all over the world: Rexroth, Bosch, Roquet, Schneider Electric, LG, Telemecanique, Pizzato...
---
---
Samples of jobs done with Hydraulic Shear C3006 CNC
---
---
Optional accesories

Instructions book

+ Info

Dimensions

Packaging

Uses of the machine
Optional accesories for Hydraulic Shear C3006 CNC
---
---
Sheet metal back support C3006 CNC
---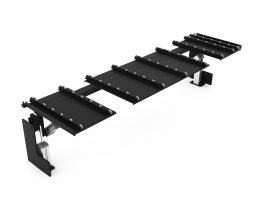 The C3006 CNC sheet metal back support is a holder to prevent sheet metal bending, thus ensuring that it has good contact with the stop. 
It is equipped with 63 wheels placed in 9 rows at different distances. These are specifically distributed to provide optimum support on sheets of different sizes. 
The support also offers two options to take the material off. In the first choice, when it has performed the support function, it descends and tilts to be able to extract the sheet metal from the rear of the machine. In the second option, after cutting, the support rises and the stop pushes the sheet for its extraction from the front of the machine.
Reference: 140-06-02-00002
Pneumatic operation through an external air supply. 
Pressure switch and pressure regulator supplied with the accessory 
Integrated pneumatic system 
Ball recirculation guide for up and down movement 
Work pressure: 4/7 Kg. 
Dimensions: 3260x913x760 mm 
Weight: 250 Kg.
---
---
---
+ Info for Hydraulic Shear C3006 CNC
---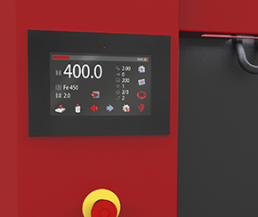 Compact CNC control ESA S625​
The operator only has to enter the type of material, thickness, distance from the gauge and the CNC will automatically arrange all components to obtain an optimal result.
Equipped with a 7 "touch screen which makes all operations on the machine simpler and more intuitive.
You can manage up to 3 axes and 16 + 12 I / O with an integrated PLC.
Storage of thousands of parts programs.
7 "800x480 color touch screen resolution
128 MB silicon disk.
2 analog inputs, 12-bit resolution.
16 digital inputs (24Vdc).
16 digital outputs (24V DC, 0.7 A max.) Protected against overloads and short circuits.
1 RS232 serial port
1 CAN port with 9 contacts Sub D F connector.
24Vdc power supply.
1 USB input.
1 Ethernet port that allows connection remotely.
Dimensions of the machine Hydraulic Shear C3006 CNC
---
Characteristics of the packaging Hydraulic Shear C3006 CNC
---
Uses of the machine Hydraulic Shear C3006 CNC
---
Last generation CNC vertical cut Shears C3006, allows cutting any kind of metal in a clean and exact way. The shearing is much more accurate, what turns out in a reduced energetic consumption and minimum wear of blades.
---